On Sunday 15th of October, a handful of us went down to Lyme Regis, not to collect fossils, which undoubtably would have been a far more relaxing affair, but to go underwater for a little bit and forget about the world above for at least half an hour. This was my first UK-dive for 4 years, so I was very excited to be reunited with some UBUC-diving. Luckily, very little has changed!
We set off at 0700 and arrived before 0900. We were greeted by glorious sunshine and a flat sea. We assembled the boats and t­he kit and decided to head out to the Baygitano.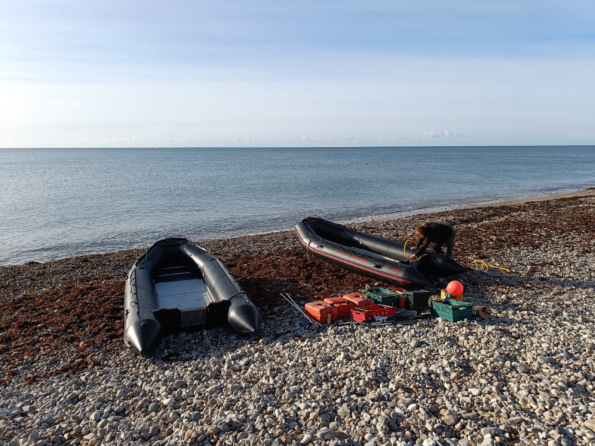 Despite the sea being quite choppy, we decided to be brave and go for it! (photo: Jon Massey)
What is the Baygitano, you may ask? Built in 1905, the steam-powered collier (a coal-transport) was 99 meter long, weighed 3073 tons, and was torpedoed towards the end of the First World War. It had set of from Le Havre (one of the ugliest cities in the world — it was reconstructed in concrete after being bombed to pieces during WW1), on the 18th of March 1918. It was headed for Cardiff, seeking shelter in shallow waters to avoid submarines, when the submarine UC-77 torpedoed it. While 35 sailors survived the hit, two went down with the ship. Today its remains lay scattered at a depth of about 20 meters, and is a suitable dive for everyone, apart maybe from newly qualified divers at high tide. The boilers are big, and this is usually where the dive will begin, as they give off the strongest echo.
It should have been a 5 min ride on the boats, if we could get them in plane, but the untold number of twinsets, rebreathers and extra led resulted in a rather slower affair. To top it all off, one of the fuel-cans contained fuel that had led bit too rough a life, and the result was that the engine kept cutting out whenever the revs went too low. Nevertheless, we made it to the GPS-coordinates, we chased off some fishermen (they just moved on their own imitative!) and Jon aced the shot.
It was then time for the diving. While the gentry went down on the first wave, all of us plebians in wetsuits and a couple of empathetic dry-suit-divers waited for the second wave. When they resurfaced, we were very pleased to hear them talk excitedly about the huuuuge amounts of wildlife down there. This really raised my enthusiasm, but it should take some time before it was satiated. You see — it's not actually that easy to pick up divers when one of your boats is adrift. Turns out you can create some kind of one-engine float, but it's not exactly a high chance of it going into plane. Being a resourceful bunch, however, we overcame the challenge, and eventually made it into the water and down the shot.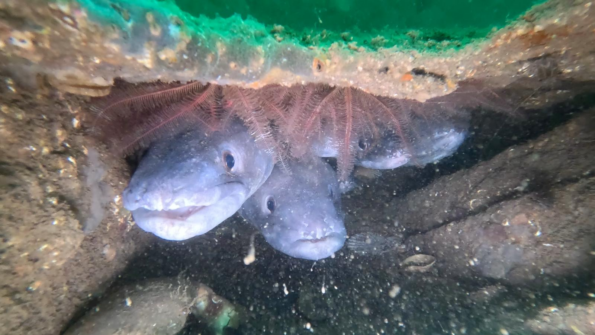 A congregation of congers (photo: Edu Santana)
What waited for us was the largest amount of biomass I have ever seen on a UK dive — pollock, ling and lobbies all over the place. The more mechanically inclined divers might have been disappointed because they pretty much blocked off the view of the ship, but as a biologist, I was thrilled. I've never seen as many conger eels, and we even found a couple swimming out in open water (one of which Jon of course decided to tickle, and thereby launch towards me) — they truly are impressive creatures! We saw plenty of lobsters, and generally a lot of different kinds of fish. No wonder people were fishing there when we arrived… Once the 40-min agreed-upon limit approached, we began our ascent, I ticked off my DSMB-lesson for my 5-year-old DL-training, and we were back on the surface.
Unfortunately, given the unreliability of the engine, we couldn't sensibly stay for a second dive, and we headed back to the shore. We packed up the boats and the kit and drove back to stores. Some team-effort later, everything was rinsed and packed away, and we could tick off another day of sweet UK-diving.
Thanks to Ben for planning the dive, thanks to all the drivers, thanks to the brave couple of you whose first UK-dive this was, and finally thanks to everyone for making it a lovely day out, despite the somewhat unfavourable work to dive-ratio!