Training tickets will be released shortly. Keep an eye on the bulletin for updates!
If you have never dived before, UBUC can train you! We teach to the internationally recognised BSAC Ocean Diver standards, and we are very proud of our thorough training programme. Listed below is information about the BSAC Ocean Diver course, what you will need and what it covers. Do note that when training with us you will also need BSAC membership, as well as some personal gear (see Joining Us).
BSAC Ocean Diver
The BSAC Ocean Diver (OD) qualification is your first step into the world of scuba diving. We will teach you the essential knowledge and skills needed to dive safely. You will be able to dive to a maximum depth of 20m. The OD course consists of 7 theory lessons, 5 sheltered water lessons and 4 open water lessons. The Open Water lessons can be completed over 2 days, but sometimes take 3 days. For more information, see the BSAC Ocean Diver page.This course is organised by the Training Officer. Lectures and Sheltered Water lessons take place in the first term. Open Water lessons happen from March onwards.
Training Prices
What's Included:
UBUC Membership
Lectures
Theory Test
Pool Sessions
Kit Hire for Pool and Open Water Sessions
Subsidies for Open Water Instructors
What's not included
BSAC Membership and BSAC Ocean Diver pack (purchased via the BSAC website, link tbc)
Your own personal dive gear (see Equipment You Need)
Fuel to get to dive sites (normally around £8 per day)
Transport Hire (if needed, we try to use our members' own cars)
Entry to inland dive sites, if applicable (normally around £17 – £20 per day). We prefer to go to the sea!
Accommodation, if necessary (camping can be £6 per night, other places slightly more)
Food and drink
Become an Ocean Diver trainee by purchasing an Ocean Diver membership.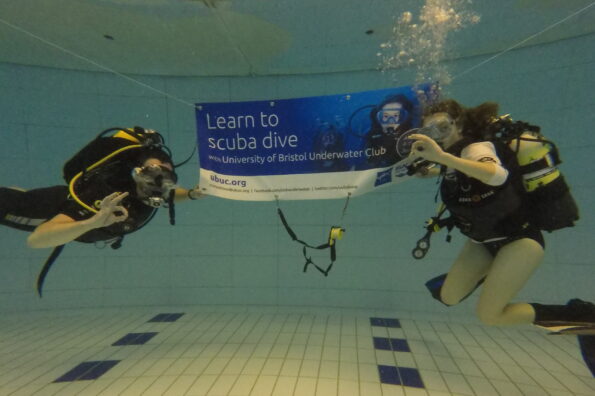 Please be aware training requires time commitment and flexibility:
Theory sessions run Thursday evenings at 18:30. There is a short multiple choice test once theory is complete to test understanding.
Sheltered water sessions take place in Autumn, in Bristol SU's pool. These are normally run on Saturdays from 5 until 9. The training officer will alllocate your sessions, so you will be required to be flexible during this period.
Open water sessions either take place in a quarry or sea. The majority of trainees undertake their open water trainee during our Easter residential trip to Porthkerris. If you are unable to attend or complete all your training during this trip, there will be alternative opportunities for day trips over spring and summer. These are subject to the availability of instructors. Remember – all the commitee and instructors are volunteers!
Learning to dive in the UK is hard – the water is cold and the weather is variable. However, if you can become an accomplished diver in the UK, you will possess a skillset allowing you to dive anywhere! The UK also houses some amazing wrecks, reefs and wildlife. It may not be the Great Barrier Reef, but its still amazing to get out and explore!