Saturday – Luke
Our first full day of the annual UBUC Porthkerris trip involved quite a lot of driving – and no, unfortunately that is not a misspelling. Having arrived at PK en masse at 8am, bad weather conditions meant that it was too rough to get the boats in the water or to use the relative shelter of the PK reef to do lessons. Once everyone piled back into cars, we crossed the peninsula to see if the weather was more favourable in Mullion Harbour. It was not, and following a further car ride, 10am saw us sitting outside the Cornish Seal Sanctuary, waiting for it to open.
Once all 35+ of us gained entry (earning a significant group discount in the process), we spent a fun few hours on a tour of the sanctuary, visiting seals, sea lions, penguins and even (oddly) some Asian short-clawed otters. A Cornish pasty and some hot coffee kept the cold away at lunchtime before it was time to once again cross the peninsula to PK to see if the weather had calmed down enough for us to get some diving done. Though it was still too rough for the boats, we decided it would be fine for shore diving, making those of us only down for the weekend very happy indeed!
Once the gear was set up and trainees had been matched to instructors, we finally started to get in the water. Visibility was limited, which was not surprising given that mornings weather, and some serious swell saw divers (or at least me) getting up close and personal with the reef. My buddy and I didn't see a whole lot beyond the large boulders of the reef, home to lots of kelp and some starfish, but it was great to be in the water nonetheless. Once everyone had safely come back ashore, it was time to pack up and head back to the caravans for some dinner and games, marking the end of a relatively successful first day of diving.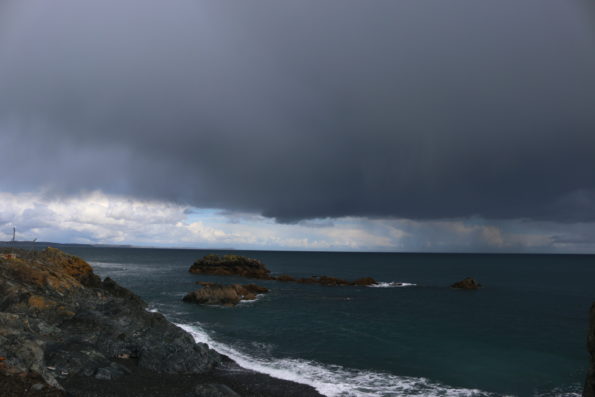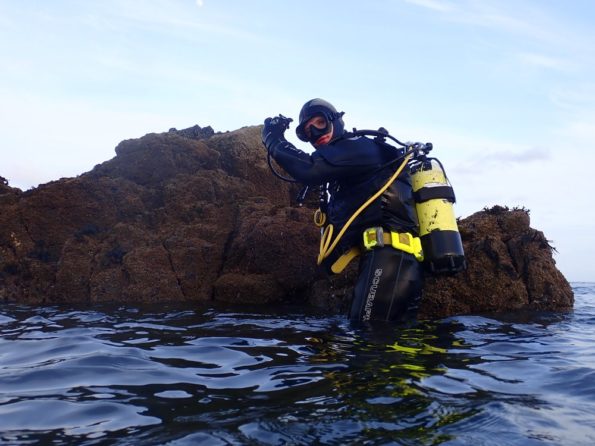 Sunday – Anna
We arrived at PK beach on Sunday morning to blue skies and calm seas which meant lots of happy divers! Due to the tricky weather yesterday, a lot of people hadn't managed much diving meaning everyone was keen to get going. The trainees and instructors got to work with qualification dives on the reef, while the rest of us started getting the boats ready. We hoped to get the most out of the good weather with three waves planned to dive the Volnay.
I was put on the first wave, with Rachael, Josh and Henry and I challenged with finding and shotting the wreck (by that I mean Josh and Henry did it all!). It took a while, but we got there eventually! We started getting ready to dive when I realised I had the wrong inflator hose for my new drysuit meaning I missed the dive altogether. The others reported great vis and a nice dive overall, and Henry and I had a not too shabby sunbathe on the boat! With the first wave taking longer than expected due to a few hiccups, only one more wave made it out, but I heard there was 10m vis and everyone seemed to have an incredible dive.
The sun kept shining and people headed out to the reef all afternoon. I managed to convince John to take me out to do my first sports diver lesson along with his ocean diver trainee, Ollie. We had a nice dive reviewing skills and exploring the reef, sadly spotting little more than a few starfish and sea urchins. Both lessons went well so Ollie and I could tick off another part of our training.
After diving finished, the weekend people, including myself, headed home. I was definitely sad to be leaving so soon! After a quick group photo we made our way back to Bristol in the minibus driven by James and DJ'd by Ben.


Monday – Leo
3rd day of PK trip and the weather has been lovely (except for the 1st day)
After morning briefing, we were very excited to get into water knowing that the first wave of boat diving would be going to Raglan Reef on Manacles .The Raglan Reef is the best wall-reef UK diving (yet) as I remembered from last year that the amount of life around on that site was just enormous.
After bringing the boat in the water, the wave and current were looking very calm showing good sign of a good start.Once we departed (with engine trouble as the  starter) and reached the sites, we were just drifting off and getting ready to lower the shot then Ivan just spotted the sonar that we were just on top of the reef.
With the shotline sorted, me, Ivan and Tim were going in as a Trio went down to 25 meters and the place was still as beautiful as I could remember. The wall is covered with corals and some spider crab, sea urchins and sea cucumbers were spotted along with few wrasse. The overall diving condition were good with 13 degrees celcius temperatures and visibility could go as far as 10-15 metres. After spending 30 minutes, my air (and body against the cold) has reached the point where we had to ascend and finish the dive. After everyone back on the boat, then we made our way back to the shore with happy face.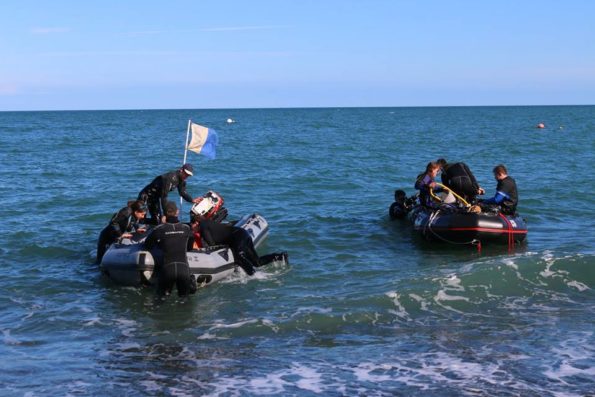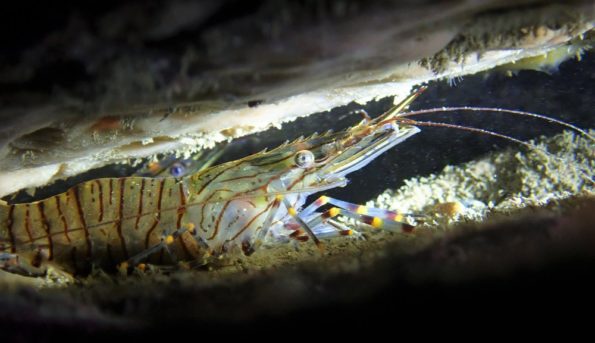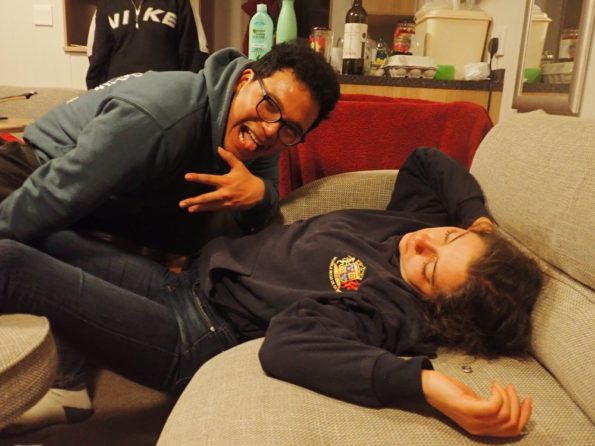 Tuesday – Jake
Tuesday brought us another day of great sunshine, perfect for training around PK reef as well as the first round of ocean diver qualifying boat dives. Although the wind had picked up a bit, we were still able to get two boats of divers out and make it out to the Volnay. On our boat was Lois and Kerry, who I was buddy paired with, Josh and Rachel, and Henry boat handling (who kept our spirits up whilst we were getting soaked by the swell breaking over the bow of the Bombard). After spending an embarrassingly long amount of time faffing with my weight belt, we got into the water just before 12:00 and descended to the wreck.
The Volnay was absolutely insane! We descended near the boilers, made our way towards the bow and back towards the shot on the boilers. With brilliant 8m visibility we could see a majority of the wreck extremely well, the massive scale of hull was easy to see appearing from the depths on descent, and for most of the 24-minute dive. The conditions also allowed us to make out so much sea life, from spider crabs and spiny lobsters, to pink sea fans, dead man's fingers and jewel anemones. My first-time swimming around a wreck was unforgettable. Especially around the boilers, the staggering amount of life on display supported in every nook and cranny of the ancient wreck, made an amazing experience for a qualifying dive.
We surfaced and headed back to the beach to either relax or stride back in for the next dive in the afternoon. At the end of the day we all chilled out in the main caravan, ready for what the rest of the trip had in store!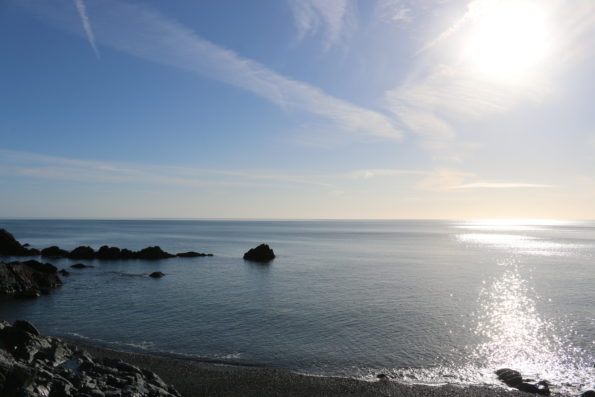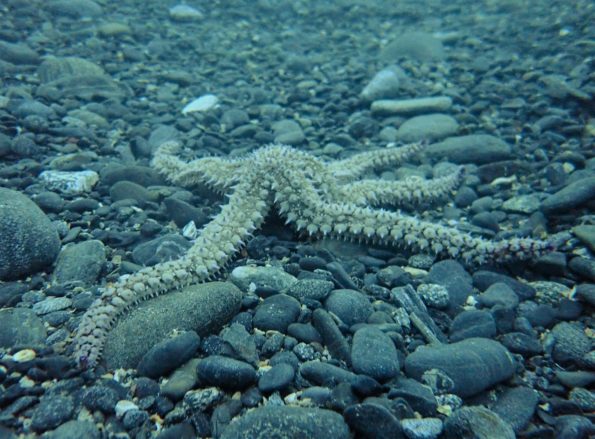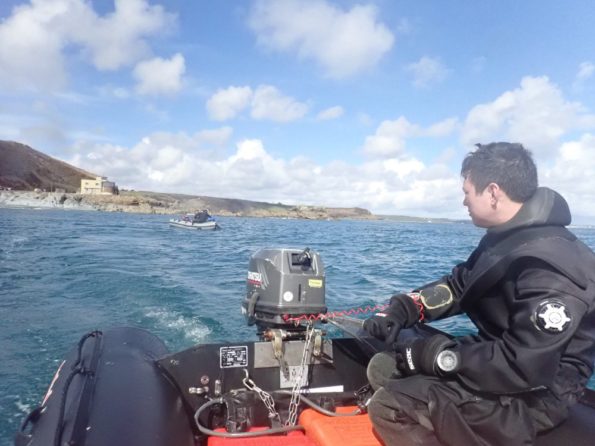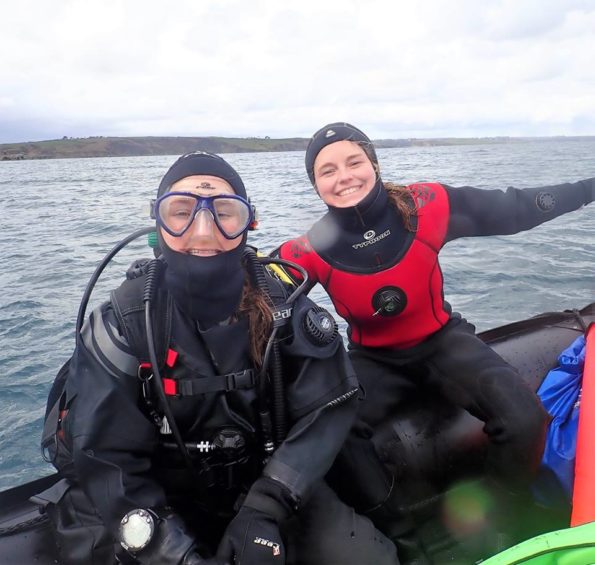 Wednesday – Lois
Wednesday was another busy day of training on Porthkerris Reef, with many Ocean Diver trainees completing their qualifying dives (woo!) or ticking off some Sports Diver training. Conditions on the reef today were nice with 4m visibility, and the sun was out (much to our surprise). Lois eventually got an opportunity to take her camera out on a fun dive with Jake, who managed to spot some well-camouflaged blennies. There was plenty of life about with many different species of starfish, wrasse, and crabs to take pictures of (to varying success). As the sun began to set Ivan, Josh, Jess, Lily, Catherine, Chris headed out on a night dive with Jess getting some great pictures of shrimp (her fave). Those on shore were a bit confused when everyone surfaced and started making strange beeping noises… apparently everyone had heard sonar whilst on the dive (meeeeep meeep meeep)! We arrived back at the caravan late in the evening, and headed down a very, very muddy path to the beach near the campsite. Chris let off some (mildly disappointing) fireworks and we all sat around a fire with some drinks reminiscing about the week – before it began to rain. Safe to say we were all exhausted but sad about only having one day of diving left at PK!