Day 1 – Saturday 2nd April
Welcome to PK, it's swell!
After a late night for some and an early night for others, the campsite was woken by yours truly at 7am for a lovely early start. Of course, not all caravans were ready in time to leave by 8am (a theme that continued throughout the week…) but most managed to make it down to Porthkerris by 8:30am. We were greeted by a single camper van with Andy and his dog, Blue, and an otherwise empty beach!
After telling everyone where to actually park their cars, we spent a nice long time unloading the van and making a good mess of the top beach. A quick site briefing later and qualified divers were sent to help unload and launch the boats, with Ocean Diver trainees and all the instructors staying by Porthkerris reef to start the first round of training.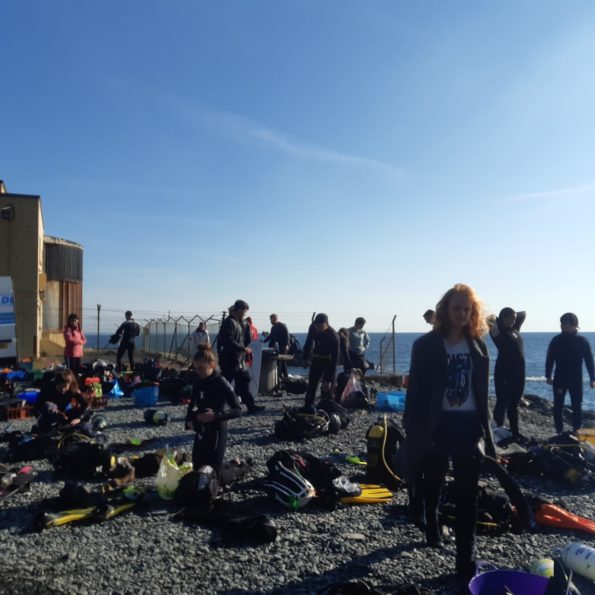 Our kit on the shore.
The plan was for most instructors to do 3 dives although a few had to do 4 due to the number of trainees. There was a lot of swell on the first day, due to easterly winds that had only just died off, so whilst it was reasonably flat at sea, the shore divers definitely had the more challenging conditions! However, we managed to get almost all the training we had planned to do, done, even whilst having to fight low vis and more movement than we wanted. Lots of spider crabs were seen by all, as well as the wrasse in the fish bowl and some small pollack around.
The boat divers managed to get out to shot the Volnay in the morning, and tied a shot line permanently to the wreck so we were able to dive it easily as the week went on. Lots of lovely conger eels and of course shot and cordite littering the wreck. Shotting and diving did take some time though, and unfortunately we missed slack on the Manacles in the afternoon. Some of the qualified divers went back to the Volnay for a second dive and others did some diving on PK reef in the afternoon.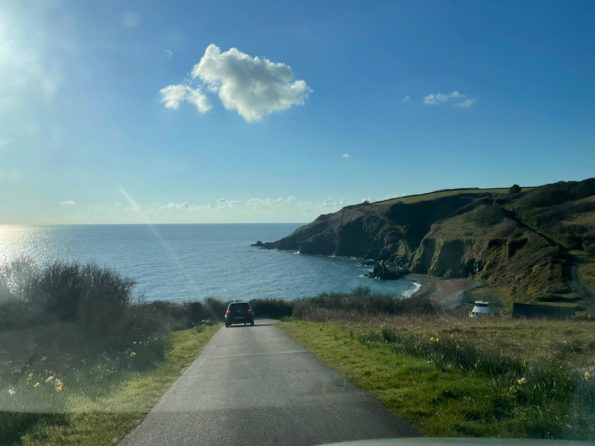 The view on our drive in each morning.
Some takeaways from the first day – make sure there is enough lead, as we really struggled to get all the divers in the water and ensure they all sunk! It seems that a bunch of lead has gone walkies so do a good count up beforehand!
After diving, we all headed back to the caravans at Silver Sands for an easy dinner, chill out and some drinks (or bed…)
Chris
Day 2 – Sunday 3rd April
We all got another early start, getting to PK around 9am for a new day of diving and training. The weather played ball and we had some decent rays and not too many white horses. OD trainees took to the water to complete their qualifications, whilst qualified divers hopped onto the boats for the first dive in the estuary to look for rays and cuttlefish. Of course, the boats needed a bit of persuasion and TLC to get going but when they cooperated, they were flying across the water! After a quick dive here, seeing lots of scallops, star fish and some sea slugs and Edu spotting a Cuttlefish, the boats headed back for well deserved lunch. Folks explored the beautiful beaches and played with the dogs on the site whilst they weren't diving. The shop was a group favourite as well for cool PK merch and much deserved hot drinks. On land Harry and I got talking to Dave, a former UBUCer helping as an instructor on the trip about his time with the club, showing us his club merch jumper from 1999. Getting back in the water, OD trainees continued their drills around the reef, spotting lots of spider crabs and wrasse along the way. Whilst qualified divers got back onto the boats to dive the Volnay and the Mohegan.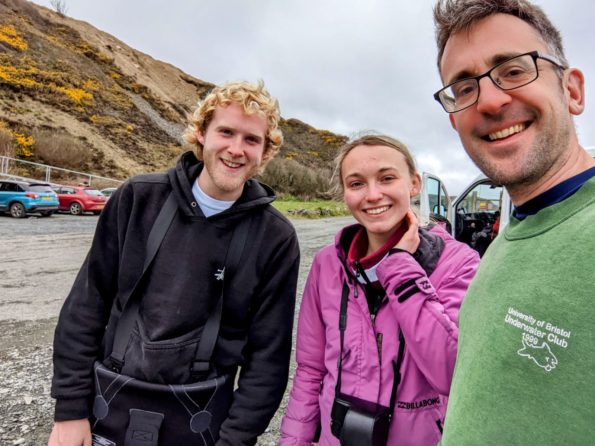 Georgia and I with Dave who took this photo because his t-shirt is older than us both.
After packing all the kit away in some sort of Jenga fashion, we headed back to the caravan park for dinner and a hot shower. Caravan 18 (Harry, Eden, Dani, Alex, Becca and Jethro) hosted a glowstick party that evening where we played drinking games and danced to the macarena under disco lights. Despite the four noise complaints we got, all was well and people were excited, if not a little hungover, for the day ahead
Georgia
Day 3 – Monday 4th April
The third day started much like it had during the weekend, to the sound of a committee member walking round and turning the caravan kettles on. Once the herd was on the move, we made our way down to PK, with Chris, the man with a van leading the way.
The first set of boat dives of the day happened at the Volney again and marked the first boat and wreck dives for some of the newly qualified ODs as well as for other not so new OD's. Relatively good visibility and skilful puppeteering a crab shell made quite an enjoyable dive.
Just before the afternoon dives, Harry and myself drove one of the boats to the furthest-out point of the PK reef and dropped a shot line to the bottom edge of the reef. At this point, most of the trainees had qualified or were on the verge of qualifying, with a simple boat dive being the ideal scene to top off the day. Callum and myself went for a nice shore dive, attempting to find the crack of life and swimming round the entirety of the reef. Lots of wrasse, lobsters, starfish and crabs appeared through the kelp, with the biggest highlight being a cat shark having a nap on one of the reef's rocks.
Once Ben and me had finished our cheeky third dive of the day, we all headed back to the campsite to get ready for what turned out to be a great night of glowsticks and caravan disco-lights (or at least I heard, I fell asleep on the sofa…).
Edu
Day 4 – Tuesday 5th April
It was another early start for the UBUCers – arriving at PK for a fresh 9am start. Today Edu took up the role of organising dives for the day, and we started with a small briefing of the day's plans. The group then split – one group left in the boats to dive the Volney, while the rest started shore diving for the day. I spent my morning shore marshalling for the shore divers, where we met a local diver who told us some interesting stories about his time as a Police Diver. Eventually the boats returned, one towing another, after one of the engines cut out mid trip. For a moment it seemed boats would be out of action for the day, but thanks to Chris' handiwork and a new sparkplug, the boats were back in business!
Now fixed, the boats headed back out to the Volney for a second wave of wreck diving. Ben and I had been paired up. It was a fairly simple dive – drop down the shot line, swim in a figure of eight around the Volney's boilers, then renascent back up the shot. We had a good look around the boilers, peaking into the compartments with our torches to explore the life that had taken up residency on the wreck. We arrived back at the shot just in time and ascended to be picked up and taken back to shore.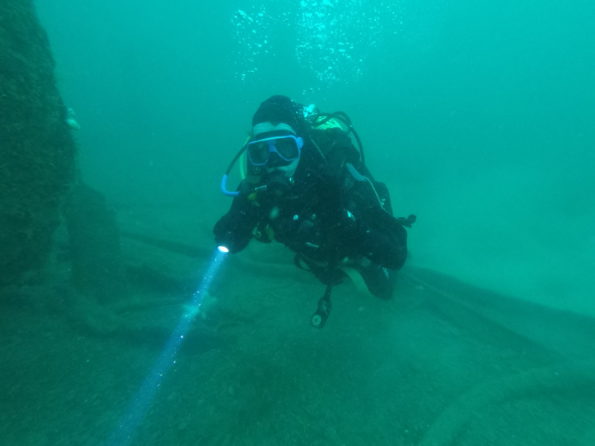 Ben on the Volnay
Once back at shore we quickly swapped over kit and headed straight to the Mohegan wreck, hoping to get there just in time for slack waters. Myself, Will, Jon and Edu descended together, and after a short bit of navigation descended onto the wreck. We successfully managed to remain as a group of four as we explored the boilers and wreckage. During the dive Jon liberated a trapped Cuckoo Wrasse from one of the multiple lobster pots that were dotted around the wreck. It was during this process I took a lobster to the face – much to the amusement of my fellow divers. It was then time to ascend, and, after a slight malfunction of my drysuit during my safety stop, I climbed back onto the boat much wetter (and colder!) than I had planned to be.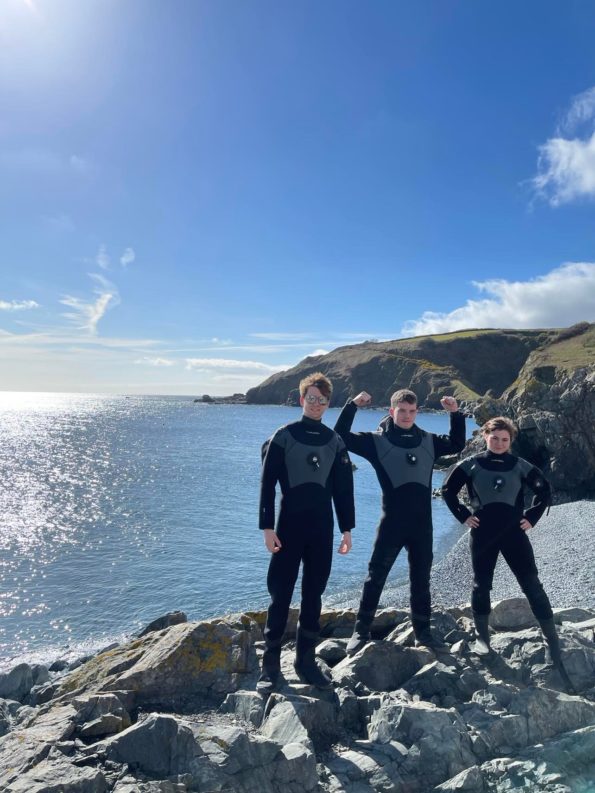 Jethro, Ben and Wes flexing the new club drysuits.
Everyone headed back to shore to dry off, pack up and head home. After some food, the group attempted to find a close pub that was open. There was no luck, and instead everyone headed to Jon's caravan for a night of board games. After multiple games of Werewolf, Exploding Kittens, Cards Against Humanity and a couple of Chris' 'interesting' stories, everyone headed to bed for a (hopefully) later start the next morning.
Jethro
Day 5 – Wednesday 6th April
Today the weather was terrible, so we ditched diving and went to a nearby seal sanctuary instead. This turned out to be one of the best decisions of the trip as many seals were seen by all and everyone seemed to enjoy themselves.
The highlight of the sanctuary was defiantly Ray, a disabled seal who'd hit his head on some rocks during a storm as a pup and wouldn't survive in the wild. He got a permanent stay at the sanctuary and is very dopey, but absolutely adorable. He's even got his own Instagram account @raytheseal.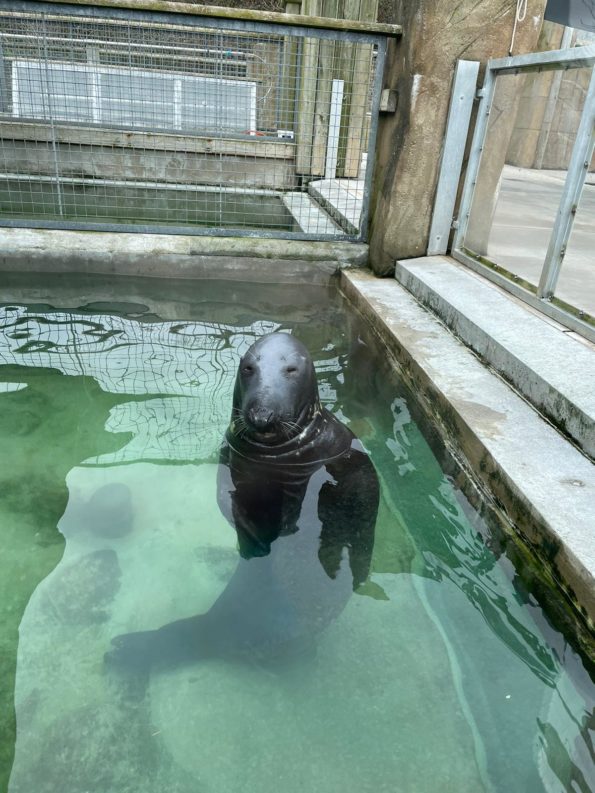 Ray the seal looking as dopey as ever after a recent minor operation.
Other sanctuary animals included penguins, sea lions, a clearing where staff promise otters hang out at night and a donkey. Overall it was a fun time and was nice to sleep past 8 without Chris roleplaying as an alarm clock.
After we'd had some dinner, we decided to trek for an hour to the next town and find, what felt like, the only pub open in Cornwall. The walk was on a nice coastal path which in the daylight with a sober convoy was great, but on the way back, in darkness with 30 odd drunk divers, was a big no no. So, we took the longer and much calmer inland path and zoomed back in just over an hour. Good day all in all.
Harry
Day 6 – Thursday 7th April
Thursday saw an early wake up, ready to make the most of the good weather with a bumper dive plan expertly put together by dive leader trainee Will.
To begin with we planned to head out to take some newly qualified divers to the Andola (a shallow wreck just off the shore about half a mile from PK). Unfortunately, like all the best-laid plans (and particularly characteristic of some of UBUC's best-laid plans!), things didn't go to plan…
Millie (one of our long suffering boat engines) decided to pick an opportune moment to breakdown just as we prepared to drop divers. Some basic first aid didn't seem to help and with winds picking up we called the dive and had a bit of boat towing practice instead.
Boat life.
Back at shore local engine-guru Chris agreed to swim out to the boat mooring to try work his magic in exchange for me cooking him a hot lunch in my campervan. The exchange was successful and shortly later Millie coughed back to life (note to self: check to see if the engine mix screw has randomly ejected itself from the carburettor next time…) and Chris was well fed.
Meanwhile, the disappointed divers were blessed with an Easter miracle… the legendary egg hunt! Traversing the fish bowl and crack of life, we scoured the reef for eggs, ultimately cracking more than would safely return to shore. Amongst this pursuit, a pair of crabs (feeling the joys of spring!) were engaged in copulation, clearly unaware of the meddling Biology students hovering overhead.
Back to the sea we went! Having now missed slack on the manacles an updated plan saw us head to the Volnay instead and it did not disappoint! Captained by the capable Alex, we reached the wreck, itching for some exploration. Descending the line we arrived at the sea floor, careful not to disturb the thick layer of silt. Our wide eyes, drifting from the shoals of fish and coocoo wrasse towards the benthos, saw something unexpected… a huge anglerfish, enormous moth agape, lay amongst the silt. It seemed more gargoyle than fish!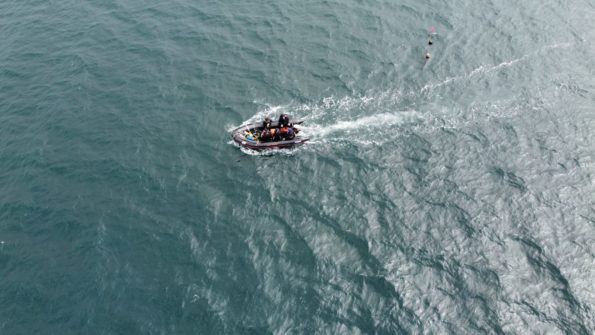 Drone shot courtesy of Dave.
Once back to shore we had a quick turnaround (10 minutes, a new UBUC record?) before heading out and hit a late afternoon slack window on the Manacles. Four divers, including Chris and me, went to dive the Mohegan, starting and finishing on Maen Voes.
We had a great dive with good visibility and plenty of life around. It was the first time I'd dived with Chris in years and on reflection I think we make a decent team: I seem to focus on obsessively looking in wreckage for conger eels & treasure, or trying to fit through impossibly small gaps, whilst Chris kept an eye on the bigger picture actually enjoying the marine life, including pointing out the squid right in front of us that would have quite honestly passed me by!
As darkness approached, a group of brave (foolish) UBUCers decided to stick around for a final dive. Not swayed by the promise of a hot meal and shower at the campsite, we embarked on our first night dive under the watchful gaze of Chris, who stayed on shore building a little campfire on the beach. While the vis was poorer than usual, floating through the kelp was an otherworldly experience!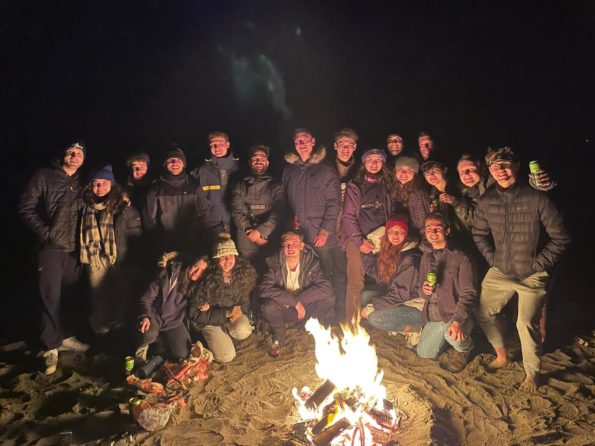 Group photo at the campfire.
Meanwhile, everyone else headed back for dinner and then headed out for their own campfire down on Kennack Sands – a perfect end to a (more or less…) perfect day of UK diving with UBUC!
Alex and Rami
Day 7 – Friday 8th April
The day began earlier than expected, as the glowstick party was still in full swing at 1am. Thrown to celebrate freshly qualified divers, those who went a bit too hard were feeling slightly less than fresh the next morning, myself included.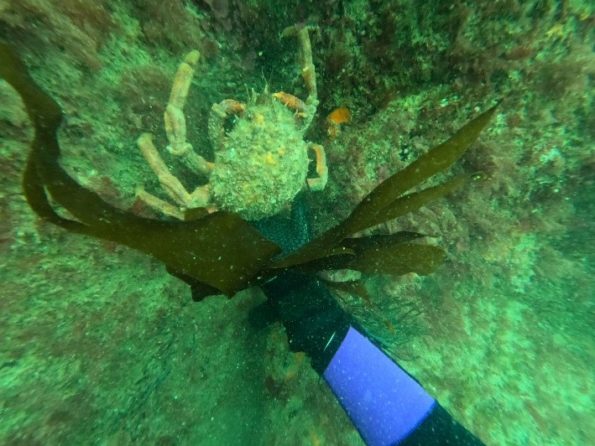 Some of the spider crabs on the reef were huge – Cornwall must do something to them.
Taking it easy as a new (and perhaps hungover) Ocean Diver, myself (red t-shirt) and Marten (black hat) had a chill dive around PK reef. Our mission was to find the octopus which another diver had seen earlier that morning in the 'Fish Bowl' hidden among some kelp.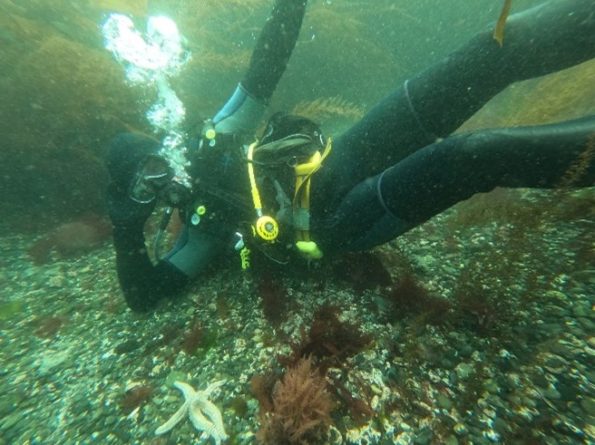 Ned asking his buddy to paint him like one of their French girls.
Although there was a strong current, and we got a bit disorientated navigating underwater, our dive was a safe and pleasant one. We saw LOADS of marine life, including sea cucumbers, starfish, spider crabs, and lobster bois.
Ned