Friday – Most of us plodded along to the campsite late in the evening only to be told that entry past 10pm wouldn't be permitted. Given the distance to the site, this was a challenge for a few of us who left after a long day's work. Alas, all was well with the evening coming to an end as Ben (the last to arrive) pulled in just past curfew.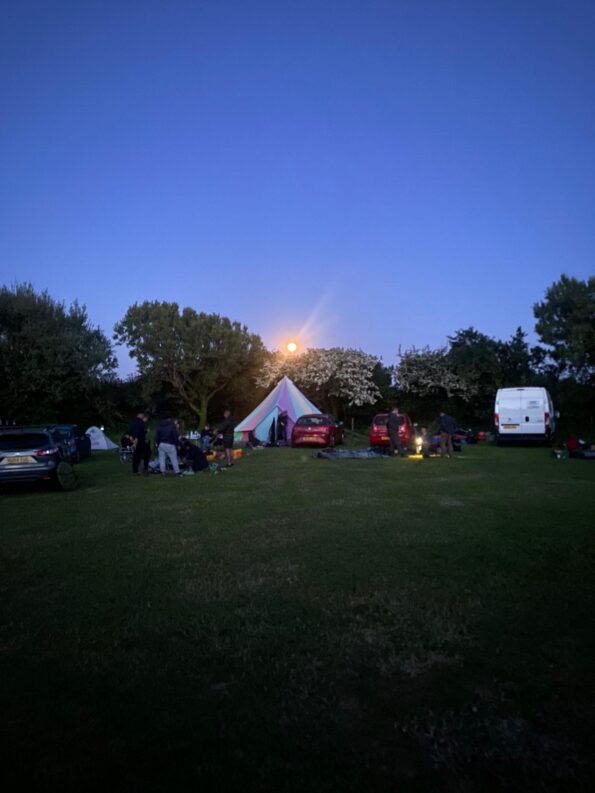 Saturday – As I am sure all who know Will are expecting, he ensured we were up bright and early with the aim to be on the beach of Martins Haven by 8am that morning. This surely would leave plenty of time for the endless faff of constructing the club boats! However, much to everyone's surprise, they were not just built by the suggested 10am but we on the water with divers ready to go! A truly remarkable feet for UBUC!
With the help of the trusty Meg and Sam on 'Just Add Water' we began our dive breifing for the first sight, Deadeye Wreck and what a pleasure it was! As we glided across the glisseningly calm seas with puffins over head, it all felt too good to be true. When finally in the water, almost everyone encountered seals. I myself turned to find one nibbling away on my fin. To our amazement, the wildlife had come out just for us truly a life long memory for us all.
After heading back for lunch we decided to split off into two groups to allow for some deeper diving. With 6 of us diving The Lucy, who lies at around 35m, and the others taking on the Rye Rocks. I personally, enjoyed every second on The Lucy and truly cannot wait to get back! The others spoke of the wildlife including crawfish, lobsters, and a couple of catsharks!! However, disaster had struck! While the first wave of divers were down, 'UBUC Walsh' had begun to take on water! The valves to the back of the boat had come off, an easy fix but, a problem in the moment. Given all three boats were out, this gave enough time for all divers to get on their dives and get back safely. Worse though was the fuel line coming detached, falling into the partly flooded boat, sucking water into the engine, and filling the car baretta with salt! Now she was out for the day!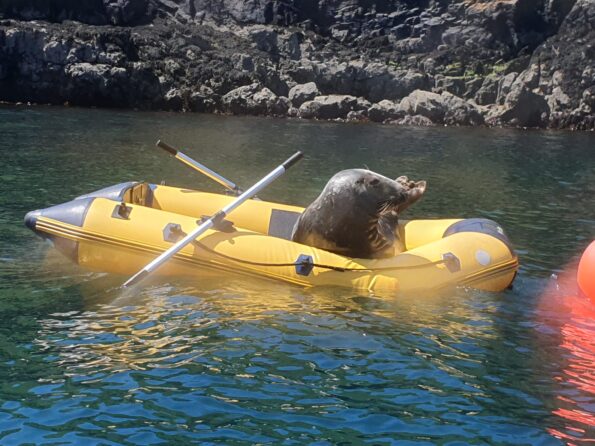 With a tow back to shore the end of diving for the day was upon us. Dave, UBUCs president from 2000, quickly left to grab some food for the epic BBQ feast that was to come!! With a plan to fix 'Samantha' and get fills in place. It was time for bed for another day of diving tomorrow!
Sunday – A 10am start and straight onto 'Just Add Water' it was for the divers of the day off to High Point for some amazing dives which involved the sighting of many lobsters, crabs, catsharks. Meanwhile, myself and Max were out and about in the town securing the fills and (at least trying to) find the missing pieces to ensure the boats were fully operational. When we returned, we were met with divers ready for my final dive of the trip. Another visit to High Point with yet more catsharks, a John Dory, and for the lucky Sam and Leon an octopus! What an awesome dive to end an awesome weekend!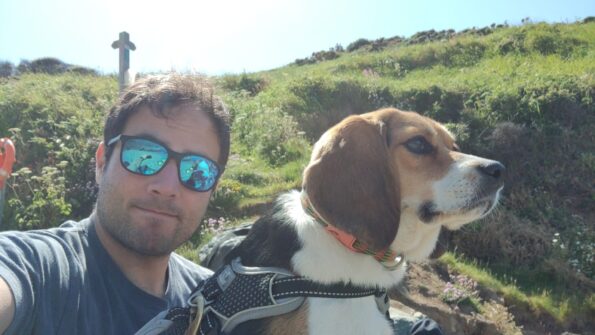 Monday written by Amy – Motivation for our 6.30am starts and diving for 8am had begun to dwindle. After a busy weekend of diving and mostly successful boat use, those of us left had begun to wish for our beds instead of a night in the disco dome and everyone 'coincidently' forgot to put their alarms on.
Despite this, of course, there was diving that needed to be done and we arrived at Martin's cove for around 9. Rachel arrived impressively early after driving down from Bristol and she and Will began her ocean diver training. The rest of us braved the boats after assurance from Alex B that all was working well.
After yesterday's success at High point of spotting octopus, catfish and seals, and the desire to stick close to the shore now that we didn't have Sam's boat to rescue us, we decided it was the place to return for today's diving.
In the hopes of more octopus (octopi?), all dives took the western direction from Highpoint. While there weren't any repeat sightings it was a pleasant dive, of good visibility with lots of fish, spiny lobster, and large crabs, as well as our good deed done by picking up more fishing litter.
Lunch was again a scramble to get sandwiches down on the pebble beach before piling back on to the boats for more diving. However, the boats didn't quite agree with this plan and despite Alex and Ben's best efforts, and a little trip halfway to High point, everyone returned to Martin's Cove and a shore dive was decided to be the best course of action. Those not diving were sunbathing and exploring the coastal paths that Wales has to offer nearby.
After the impromptu shore dive that only began at 5pm, a curry night was needed for the weary divers, and after cylinders were filled with air and divers with peshwari naan, the mood was high for a laidback evening at the campsite and an early night ready for another day of diving.
Tuesday written by Alex – After experiencing issues with starting both engines the previous day, we decided to start the day with a nice reliable shore dive at St Brides. Being shallow, having little boat traffic and being sandy-bottomed, St Brides acted as a decent venue for training; Will finished Rachel's final three lessons, qualifying her as an Ocean Diver. For lunch, we planned to eat at Runwayskiln however, only the food kiosk was open. Nevertheless the food was still great, and I would highly recommend the paninis!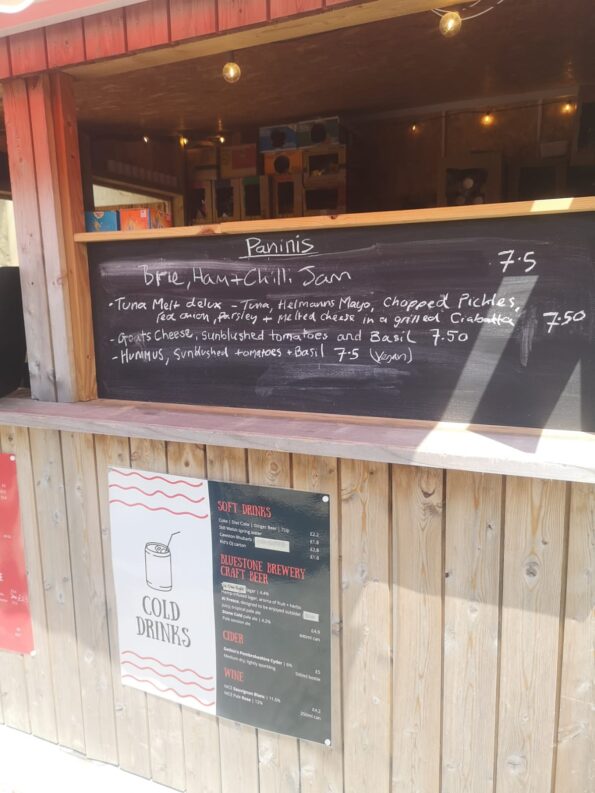 After lunch we went to Martin's Haven to try our luck with the boats. Having spent a lot of time trying to start the engines and wrangling them from their mooring, we decided to give a boat dive a go. While heading out to Wooltack Point and poised to drop divers, the first engine stopped and refused to restart. To make things worse, when the second boat came over to help, its engine also failed! Stranded in open water we quickly began trying to restart them. Obviously this was quite a precarious situation to be in, mitigated to some extent by how idyllic the weather was, with flat calm seas and little wind. After even more futile attempts at restarting the engines we decided to paddle/swim the boats back into the harbour. After a long tiring trek back to the beach, we dismantled the boats and packed them back into van.
Exhausted, we went back to the camp site to treat ourselves to food from the truck food at the camp site, treating ourselves to fish and chips, burgers and 'cow pie'.
Wednesday by Phil – For the penultimate day of Diving we made our way from the campsite to St Brides Haven beach. Blessed with great weather and visibility we began our shore dives averaging dive depths of 5m, which allowed us to spend more time under the surface. By the mid-afternoon we had completed two waves of shore dives and returned to the campsite to take a break before heading out once more to St Brides at sunset. After setting up a small campfire, I had the chance to complete my first night dive which was a brilliant opportunity to observe species which became more active in the dark. Once the night of diving was completed and after some time warming up around the fire, we retired to the campsite for the day.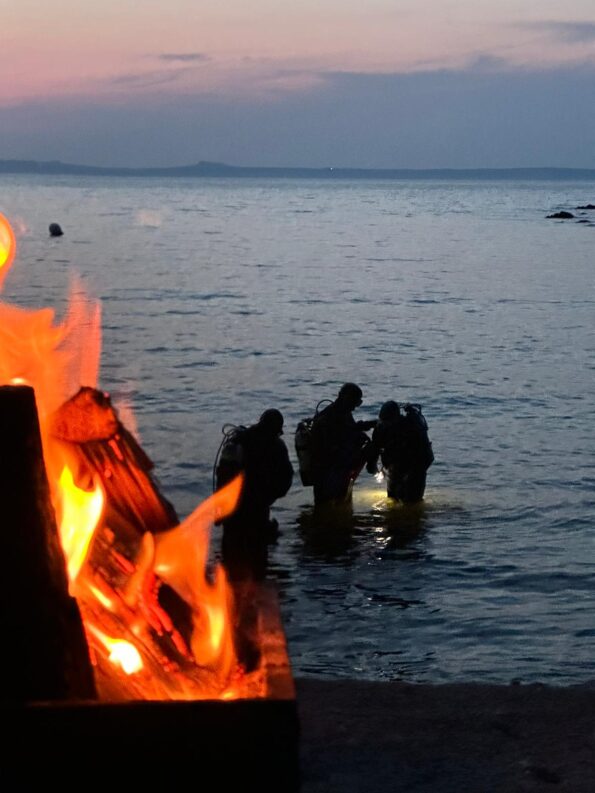 Thursday by Phil – After packing up our equipment at the campsite we returned to Martin's Haven for the final day of diving. For the last dive I was given the opportunity to begin my Sports Diver training , where myself and my dive buddy were given a lesson on how to use a Surface Marker Buoy. After completing the dive, we packed up the van, said our farewells to Southwest Wales, and began the journey back to Bristol.