Vobster Trip Report 29/06/2023
Bright and early on a Thursday morning four divers headed down for another sunny day at Vobster Quay, myself and Luis were there for the morning session with Will, who very kindly got up bright and early to DM for us. He was waiting for Edu to arrive In the afternoon session so they could buddy up for their first twinset dive together. I was also getting my new twinset wet for the first time and was hoping it would all go swimmingly.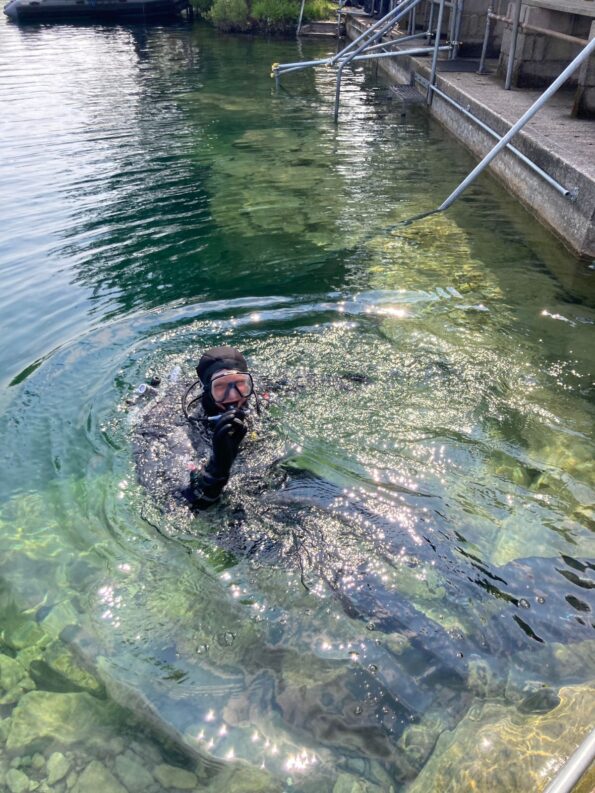 After a bit of faff with getting used to kitting up with a whole extra cylinder on my back, Luis and I finally got in the water for our first dive. After some drills on the 6m platform we headed down into the cold depths to find the tunnel. We both noted that it was absolutely freezing down at 20m but even so we soldiered on and got a nice 45 minute dive in to begin with.
For our second dive it somehow felt even colder and after looking at some boat wreckage for a bit we decided to end the dive after 20 minutes. Back on the surface we both completed a weight check and discovered I was quite over weighted. This felt like a great excuse for feeling like a beginner again with my buoyancy and trim.
I came away with lots of lessons learnt and areas to practice moving forward with the twinset. Thanks to Luis for putting up with my terrible buoyancy 🙂
Later in the afternoon Edu arrived and together with Will they set out for a dive. Reports are it went well but me and Luis had headed home by this point after some well deserved scran from the food van