Hello divers!
It's time for one of my favorite dive locations – Plymouth!
The plan is to go down to Plymouth where there are loads of great wrecks to dive. A lot of these are accessible to Ocean Divers, so the trip is open to all qualified divers. It really will be a bumper weekend, so read on!
Diving and Activities
There are countless wrecks appealing to all qualification levels each with their own character. My favorite is the easily the JEL, though if you like your wrecks to still look a bit more boat shaped you will be delighted by the Scylla!
We will aim to do four of the wrecks in the area, probably from the following list:
The James Eagan Layne
The Scylla
The Glen Strathallen
The Poulmic
More
The diving at Plymouth really can be very good sometimes, as a photo here from one on my dives on the Persier shows!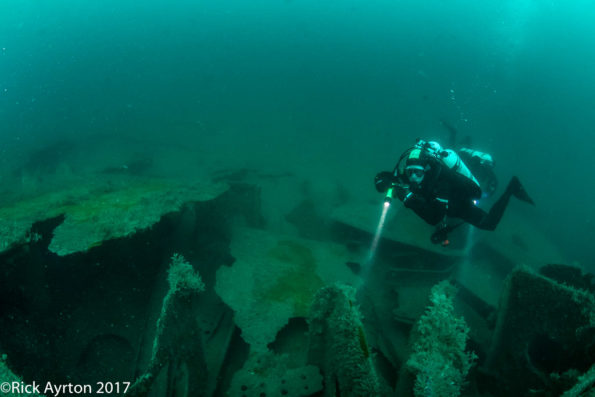 Launching will be from The Mount Batten Centre and accommodation will also be in the same area. I need someone to help organise the accomodation, please let me know if you can do this.
We will be on the club boats, as well as possibly my new one, and for ease and fun, we will be staying out all day! This saves on some of the driving about on the boats and means we can get more diving in. We will head out, do a dive, find a beach for lunch, do another dive and then head in.*
*Last time I tried this the weather was not all that great…
Accommodation
The last time we ran this trip we stayed in a bunkhouse on Union street. It was not the best place ever, but nice and cheap!
Qualifications
This trip is open to all qualified divers with UK boat diving experience. If you are not sure about this please get in contact so we can help.
Times
We will be heading down on the morning of Saturday the 21st of April. Diving will then be on Saturday and Sunday getting back to Bristol for late evening on Sunday.
Costs
The costs for this trip will be roughly as follows:
Fuel: Depends on your driver, but likely to be around ~£15-20
Van Hire: ~£20
Additional boat costs (moring, fuel): ~£10
Accommodation: ~£18
Food: Up to you, we will probably go out to the pub
Boat hire: £5/PP/day
Air: ~£2 a fill (we will bring full cylinders, so first day free)
Kit hire: This will depend on what you need. You can see the prices on the union website by going to Underwater->Events->Kit Hire (http://www.bristolsu.org.uk/groups/underwater)
So that is coming out at about ~£80 for 2 days diving!! (This will depend a bit on how many people come)
The full costing from the last trip can be seen here for reference.
Deposit
We will be asking for a £20 deposit per person so that we can pay for the accommodation (This will not be returnable after the accommodation has been booked, unless you can sell your space to someone else).
We will send an email soon requesting the deposit. As the trip is quite short notice you will need to pay this promptly, otherwise we just can't book it!
Kit
You will need all of your basic dive gear. A lot of this can be borrowed/hired from the club. Get in contact if you need some help with this!
A DSMB will be essential!
Sign Up Sheet
The number of people we can take depends on how many boat handlers and people with towing cars we get. You will see on the sheet that spaces are reserved for those with these qualifications. Please be aware that if we do not get enough boat handlers/people with cars then we will only be able to run the trip with the people first to sign up.