One of UBUC's Assistant Instructors, Iain, requested on Thursday if he could run a trip to complete his Dive Leader qualification. Thus on Sunday, Josh and I headed down to West Bay to dive the Baygitano with Iain and Godfrey from NORAD Sub Aqua.
We launched their RIB out of the harbour at West Bay, and with the sea pretty calm it was a quick ride across to the wreck site. After shotting the wreck (and having a good play with their new side scan sonar), Josh and Godfrey were the first two divers in the water, with myself and Iain providing surface cover. A good 48 minute dive (with 'a little deco') later, they surfaced and we swapped divers / boat handlers. We then went in for a slightly shorter but nevertheless very fun dive. Huge shoals of bib and pollack as always, the occasional lobster and loads of conger eels make this site a fantastic advertisement for just how prolific life in UK waters can be. The water temperature was 17 degrees (!!!) and vis about 6-7m. From the noises we could hear from the surface during our dive, Josh was having a good time driving a RIB for the first time.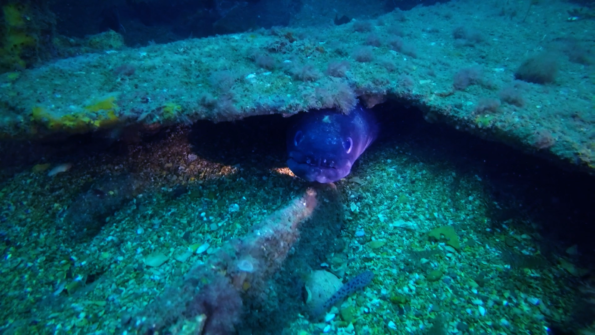 We headed into Lyme Regis (which was rammed, unsurprisingly) for a quick lunch break before heading back out for another round of diving. This time we went through a few swim throughs and around a slightly different part of the wreck, although it mostly looks the same due to all the fish getting in the way.
The wind had picked up by the afternoon (about force 4 to 5), but this was no trouble for the RIB, and we made it back to West Bay in almost the same time as we had going out. Note for future – there is running water at the top of the slipway which meant washing down the boat and gear was simple and quick.
Congratulations Iain on completing your Dive Leader qualification at last, and thank you and Godfrey for a great trip!