Lundy Island is situated about 17 NM off the coast from the most convenient launch site. The diving here tends to benefit from the currents and has excellent visibility.
They have a website with a lot of detail on the diving on Lundy – you will want to have a read of the information there!
Getting There
Because of the distance out to the island you will need to wait until the conditions are really good. Allow plenty of time for the journey (estimated ~2 hours on the club boats, 40 mins in a RHIB). We attempted it on this trip in force 4 winds in a RHIB and decided that was a bit too much.
You will need to carry spare fuel, so factor this into how fast you will be able to go – there is not petrol available on the island!
Navigational Hazards
There is a sandbar in the estuary at Bideford – this is a serious navigational hazard and crossing it should be avoided (even in the clubs boats). The sandbar tends to cause very large waves combined with very shallow waters – this can easily flip even a reasonably sized boat.
Do not cross the sandbar! Plan your route using suitable charts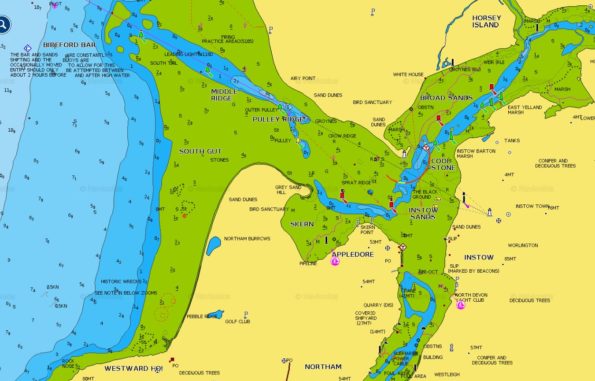 Extract of a chart of the Bideford estuary – note the marker buoys (colored for entry)
Dive Sites
Lundy has some spectacular dive sites available which really make it worth the effort! You will find a fair bit of information on the islands website about them which should tantalise you.
| | | |
| --- | --- | --- |
| Site Name | Depth | GPS |
| Iona II (Protected) | 22-28m | |
| HMS Montagu | 12m | 51 09.58'N 04 40.36'W |
| SS Carmine Filomena | 8-18m | 51 09.77'N 04 39.03'W |
| MV Robert | 18-25m | 51 11.12'N 04 38.80W |
| Knoll Pins | 15-25m | 51 11.28'N 04 39.63'W |
| Gannets' Rock | 3-35m | 51 11.83'N 04 30.03'W |
| Pete's Pinnacle | 18-30m | 51 11.94'N 04 40.20'W |
| Drift North from Brazen Ward | 15-25m | 51 11.37'N 04 39.67'W |
| Gannet's Bay | 8-14m | 51 11.77'N 04 40.09'W |
| Jenny's Cove | 6-15m | 51 10.87'N 04 40.48'W |
| Gullied off Battery Point | 20-35m | 51 10.32'N 04 41.10'W |
Accomodation
There is camping on the island and this can be arranged by calling them. Info is all on their website.
A one night stays confuses them as they are used to people coming over at the same times as the ferry. This has to be booked over the phone with the shore office, but once you explain you're coming on your own transport they're happy.
Air Fills
There is a diving 'shed' on the island with some basic diving facilities. It is quite a small facility and has to be run from a generator. As such they like you to book in any use of this a month in advance using their online form.
Getting a License for Protected Wrecks
Several of the dive sites are protected and a license is required to dive them. Permission to dive can actually be obtained from the warden and they have a license for diving the wrecks.
Protected sites:
Mooring
There is very limited pontoon space on the island. There are no visitor moorings (though you can ask to use the warden's buoy if their boat isn't in the water) so you have to anchor in the bay.
In easterly winds the east side of the island gets very rough making mooring a problem
Parking
Parking in the car park at the Appledore slip is not too much of an issue. You can park for multiple days but have to leave trailers hitched and pay for every space taken up. If the trailer & vehicle are longer than 2 spaces then phone the parking people to ask for permission to park the trailer unhitched in advance! Contact details seem to be here.
Make sure you check that your car and trailer will fit in two spaces and call in the week if you know it won't!