Coordinates: 51 11.94'N 04 40.20'W (start of dive)
Depth range: 12-30m
Slack time: LW-2 -> LW+2
Starting at the given coordinates swim down the slope to the east and this should take you to a boiler at about 18m. If you can't find it go north a bit. Heading east-north-east from here should take you to a second boiler at around 25m. Slightly west from this point (or slightly north from the first boiler) .
The pinnacle has lots of vertical faces which are very impressive. There is a boulder field below the pinnacle at about 30m or the bottom of the pinnacle at about 25m.
The actual pinnacle should be found at about 51°11'59.9″N 4°40'09.8″W.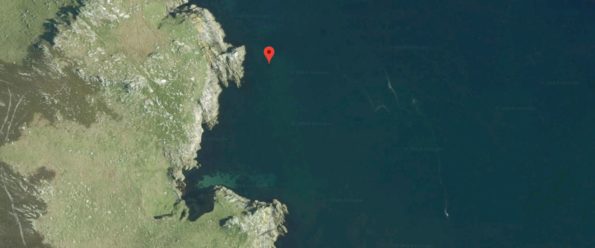 Point where the pinnacle is approximately located
Currents can be very strong around this site so it should be dived during, or just before slack water. It is recommended that you do not swim to the north of the pinnacle as the boat will not be able to see you.
Full details on how we organise trips to Lundy here.